Industrial Finishing Services
Marathon Industrial Finishing has established effective and efficient quality processes and management practices, which support continual improvement. Our Quality Management System complies with the requirements of the AMPP standards.
Industrial Painting
Our state-of-the-art facility is climate-controlled and has multiple paint booths equipped with heated cure cycles, greatly reducing cure times for those jobs that need to be completed quickly.
We offer industrial and high performance coatings including:
Industrial Linings

Abrasion Resistant Linings

Tank Linings

Chemical Resistant Coatings

Urethane Coatings

Joint Sealants

Epoxy Coatings

Flake-filled Linings
Need Field Painting Services?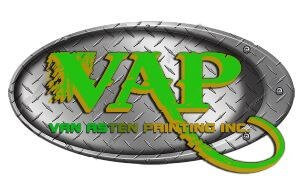 Visit our sister company, Van Asten Painting, Inc. for all your field painting needs.
Abrasive Blasting
Marathon Industrial Finishing offers a wide range of blast cleaning services. These remove existing paints, varnishes, rust and mill scale.
Every stage of the blasting and coating process takes place under one roof allowing us to get your job completed quickly.
Corrosion Surveys

Glass Beading

Stainless Steel Shot

Steel Grit

Garnet

Alumina Oxide
Inspections
Inspections shall be performed to: control job-critical materials, monitor environmental conditions, monitor key work procedures and verify the quality of the completed coating installation.
Inspection results shall be documented on suitable inspection reports or checklists.
Inspection records will include appropriate information to maintain the traceability of materials and application steps.
Nonconforming items and their resolution will be documented and corrected through the use of CARS or corrective action reports.